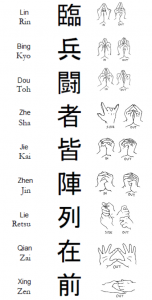 This looks like one of our most powerful courses and intense courses available….and it is one of the most affordable. This course provides all the information needed to self initiate, practice and perform the 5-elements (Fire, Air, Water, Earth, Space) and the 9-esoteric hand seals known as Jiuzi Miling in China and Kuji-In in Japan. Although this practice is often associated with the Japanese Ninja, its origins are actually Hindu and later became a Buddhist practice that spread throughout Tibet, China and Japan.
This course includes all information needed to practice the 5-elements and 9-seals. All mantras (magic word formulas), mudras (hand gestures) and Qigong exercises and meditations are revealed.
Click here to be taken to the 5 Elements & 9 Esoteric Seals course.